An updated filter library with over 400 new colors...
...CIE chromaticity display of filters being used...
...filter name display...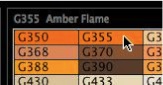 ...a comprehensive built-in help system...
...easier custom backdrop resizing...
...a dedicated window for backdrop lighting...

...recording of your VLL slideshows...
...Mac Universal Binary version...
...and 25 additional models.

Upgrade cost
How much will all of this cost you? If you own a prior version of VLL you can upgrade to VLL 2010 for only $20. Contact us for site license upgrade pricing..

System requirements
VLL 2010 requires Windows XP, Vista, or 7; or Mac OS X 10.2 or higher and Intel processor.

Upgrading is as easy as 1-2-3
Step 1 - Payment
First make your payment with a credit card or your PayPal account.

Click this button to purchase an individual upgrade for $20
Step 2 - New code request
After making your payment,
click here
to go to the upgrade registration form. Within a day you will receive your new registration code and downloading instructions. Meanwhile, do step 3.
Step 3 - Download Virtual Light Lab
Click here
to go to the download page.
That's all there is to it. Enjoy.